NEW BOOK: "ALL MEMORIES GREAT & SMALL"
Released in December 2016 as part of the 100th birthday celebrations for James Herriot, All Memories Great & Small is the ideal companion book to the classic BBC series.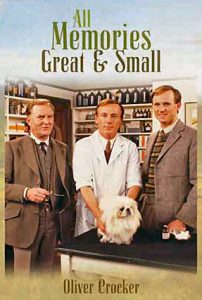 Every episode is accompanied by exclusive memories, thanks to 60 new interviews with cast and crew. Stars Christopher Timothy, Robert Hardy, Peter Davison and Carol Drinkwater are joined by dozens of guest stars and members of the production team, many of whom have never shared their memories of making this television classic before. Tributes are also paid by family members of those no longer with us.
This book is also packed with insight into all 90 episodes, including original synopses, credits, production and transmission dates, viewing figures and dozens of previously unpublished behind the scenes photographs.
The author is Oliver Crocker, who was inspired to write the book after a visit to the World of James Herriot museum in 2015. There is also a Foreword by Rosie Page, daughter of Alf Wight, who writes that the book is "A must for all Herriot fans… This is a very worthy addition to James Herriot's centenary year."
The interviewees sharing their memories include actors Andrea Gibb (Deirdre McEwan), Jean Heywood (Mrs Alton), Ali Lewis (Rosie Herriot), Peter Alexander (St. John), Lois Baxter (Margery Egerton), Paul Clayton (Brian Weeting), Fine Time Fontayne (George Forsyth/Joe Bentley), Gillian Hanna (Betty Sanders), Derek Hicks (Willie Bannister), Pete Ivatts (Mr. Blackburn/Tom Maxwell), Vivien Keene (Mary Trenholm), Ray Mangion (Franco Pedretti), Norman Mann (Richard Edmundson), Nicholas McArdle (Mr. Worley), Joanna McCallum (Lady Hulton), Elizabeth Millbank (Alice McTavish), Suzanne Neve (Joan Clifford), Jonathan Owen (Peter Gillard), David Quilter (Andrew Bruce), Pamela Salem (Zoe Bennett), Jessica Sewell (Mary Clarke), Madeline Smith (Angela Farmer/Anne Grantley), Amanda Waring (Elizabeth Rayner) and Susan Wooldridge (Daughter of Margaretta Scott). From behind the scenes, the interviewees are Bob Blagden (Director), Sandy Byrne (Widow of Writer Johnny Byrne), Alex Christison (Film Sound), Carol Churchill (Make-up Designer), David Crozier (Designer), Nigel Curzon (Designer), Roger Davenport (Writer), Rowena Dean (Make-up Artist), Mike Duxbury (Film Editor), Paul Finch (Son of Writer Brian Finch), Graham Frake (Lighting Cameraman), Roderick Graham (Director), Joyce Hawkins (Costume Designer), Terry Hodgkinson (Writer), June Hudson (Costume Designer), David Hughes (Sound), William Humble (Writer), Brian Jones (Gaffer), Peter Loring (Film Cameraman), Richard Martin (Director), Christopher Penfold (Script Editor/Writer), Les Podraza (Scene Hand), Janice Rider (Costume Designer), Tony Redston (Production Associate), Michael Russell (Writer), Helen Scarsbrook (Wardrobe), Bill Sellars (Producer), Pip Short (Grip/AFM/Location Manager), Sam Snape (Writer), Maggie Thomas (Make-up Artist), David Tilley (Assistant Floor Manager), Tony Virgo (Director) and John Williams (Film Cameraman).
ALL MEMORIES GREAT & SMALL will be released in December and is available to pre-order now RIGHT HERE