The World of James Herriot family visitor attraction is a wonderful destination for anyone interested in the life and work of James Herriot, a British vet and author who wrote a series of beloved books about his experiences working with animals in the Yorkshire Dales. Here are five great reasons to visit this unique museum:
1. Learn about James Herriot's Life and Work: The museum provides a fascinating insight into the life of James Herriot and his work as the world's most famous veterinarian. You can learn about the challenges he faced, the animals he treated, and how he became one of the most famous writers of his generation.
2. See Unique Exhibits and Artifacts: The museum has a vast collection of original artifacts and objects related to James Herriot's life and work, including photographs, letters, and pieces of equipment used in his veterinary practice. There are also exhibits showcasing his books, as well as memorabilia related to the TV shows and movies based on his work.
3. Explore the Interactive Exhibits: The museum has several interactive exhibits that allow visitors to learn more about the science of veterinary medicine, as well as the history of the Yorkshire Dales. These exhibits are engaging and immersive, providing a great educational experience for visitors of all ages.
4. Meet the Characters from James Herriot's Books: Most of James Herriot's books are set in the Yorkshire Dales, and the museum offers a unique opportunity to meet the characters from his stories. You can see vintage photos and memorabilia that inspired the characters, as well as learn more about their backgrounds and personalities.
5. Experience the Beauty of Thirsk: The museum is located in Thirsk, a picturesque market town in North Yorkshire that's steeped in history. Thirsk is a charming destination in its own right, with plenty of shops, restaurants, and historic landmarks to explore including Thirsk's Blue Plaque Trail.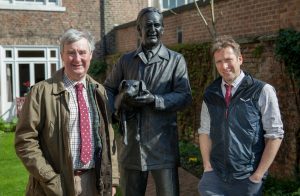 In conclusion, the James Herriot visitor attraction is a 'must-visit' for anyone wanting to learn more about the life and work of James Herriot. It offers a unique glimpse into the world of veterinary medicine and the origins of the world-wide hit TV series 'All Creatures Great & Small', as well as a chance to immerse yourself in the charming market town of Thirsk in the heart of Herriot Country.